Here in Albuquerque, we often brave three-digit temperatures during the heat of the New Mexico summer. We understand the need to stay inside in the cool, air-conditioned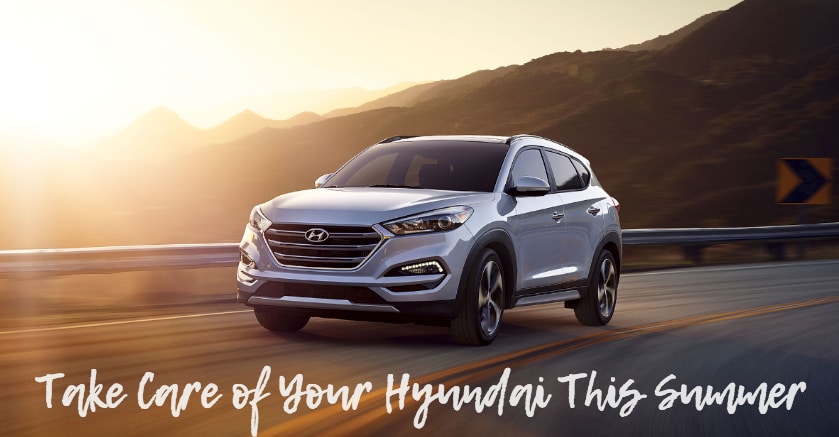 house—you have Netflix, food, and your loved ones around you. However, your car might not be as lucky. In fact, it might have to stay outside all day in the 100+ degree heat. Here are a few ways to care for your Hyundai during the next several months:
· Have your vehicle's air conditioning checked. The last thing you want is to be cruising down the highway on your way home from work with no AC to keep you and your passengers cool. It's important to have it regularly checked. It's something you can ask for when you get your oil changed—two birds, one stone.


· Make sure your tires are in good condition. Your tires are rubber, and rubber tends to warp and crack depending on the temperature. Make sure to give your car a good walk around, looking carefully at the depth and shape of the tread on your tires. If it's cracked or too worn, the tire may be at risk of puncturing. Get those tires repaired or replaced—events like that tend to happen at inconvenient times.


· Keep is clean. When your Hyundai is dirty, the summer sun essentially bakes the dirt and grime into the paint, making it much harder to remove with a routine wash. Prevent damage, scratches, and more by washing your vehicle regularly. It'll protect it and keep it oh-so-stylish—win-win!
We can take care of all of these things at our Hyundai service center! Our technicians consistently win awards for their superior quality of work and their caring attitudes. Drop your car off at our dealership, then enjoy some refreshing beverages and all the air conditioning you can ask for in our service lounge. Stop by and let us spruce up your vehicle so you can have more summer fun.