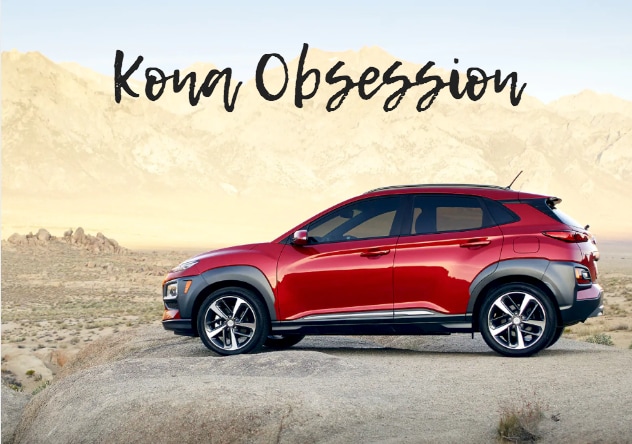 You loved Hyundai's "Sweet Caroline" commercial and probably considered buying a Sonata. Little did you know that something even bigger was coming to the brand. It wasn't just a redesign or a facelift of an existing model. It was a brand-new SUV—an iconic new crossover! Say hello to your new favorite model, the Kona.
It's bold.
This model was made to make a splash in the automotive world, and there's no question that it's succeeded. It features unprecedented functions like an available remote start, monthly vehicle health report, and lane keeping assist. In addition to its head-turning technological advances, this crossover showcases Hyundai's finest design skills. Both the interior and exterior are immaculately tailored to fit your exact style needs, with a smoothly-sculpted hood, plenty of seating, and precise headlights to let the other drivers know who rules the road.
It's the perfect size.
When they say "less is more," we think they were talking about this SUV. This sweet little number is the perfect size for adventurers of all difficulty levels. It's comfortable enough to carpool but small enough to feel like a powerful sports car. When you're maneuvering around Albuquerque in this hot ride, you'll quickly rise as the most popular member of your carpool group.
It's incredibly efficient.
This isn't your mother's SUV. This sporty crossover is the perfect fusion of efficiency and power. It boasts an EPA-estimated mileage of a remarkable 27 mpg in the city and 33 on the highway for a combined average of 30. Can you imagine what you'll do with all the time and money you'll save by driving this model? You might be able to buy another one.
The good news is we have a wide selection of Kona models in stock, and they won't last long. Drool over our online inventory before stopping by our dealership in Albuquerque to be introduced to your automotive best friend!