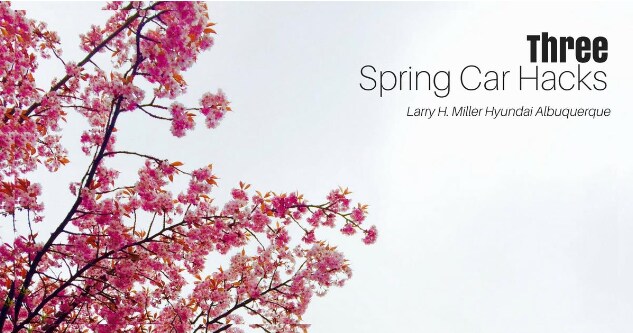 If you've stepped outside it's clear to see that a new season is on the horizon. The sun is shining longer, there are blossoms on the trees, and we're seeing flowers pop up everywhere. Our landscape is transitioning for spring and your Hyundai needs to as well. Follow our car hacks for shifting into the warmer months.
Check Tires
Let's start from the bottom and work our way up. After the difficult winter conditions winter often brings, your poor tires have probably taken a beating and you need to check the tread.
Check Your Tires Simply place a penny in the tread of your tire–Lincoln's head facing downward. If you can still see his whole head, then it's time for new wheels. You can't have bald tires on your next family road trip, it's hazardous to you and other drivers on the road.
Check Alignment
Next, let's work out way up a bit. Chances are you've driven through a pothole or two in the last little while. While this may seem like a simple thing, it can actually shake things up quite a bit with your vehicle and throw it off alignment. If you notice your ride is pulling to the left or right when driving, it's time to bring it in for a service. This causes your tires to wear unevenly and will cost you more money down the road.
Check Cleanliness
Now it's time to treat the clean the exterior of your ride. Your vehicle has probably picked up salt from the snow and ice we got through the winter and you need to get that off ASAP. Salt can lead to chipped and faded paint and you should really focus on the bottom half of your car in this scrub down.
You spend hours a week in your ride and you owe it to yourself to ensure it's in working order. You've invested a lot of money and to keep your vehicle valuable, we highly recommend you keep up with these car care tips. You'll thank us when it comes time to trade in your vehicle for a newer model. Start preventing the wear and tear now, to get more money when you bring it to us. To value the trade of your current ride, head to our site and see just how much you can get for your set of wheels before heading in to see us. Happy cleaning and enjoy the blossoming season here in Albuquerque.