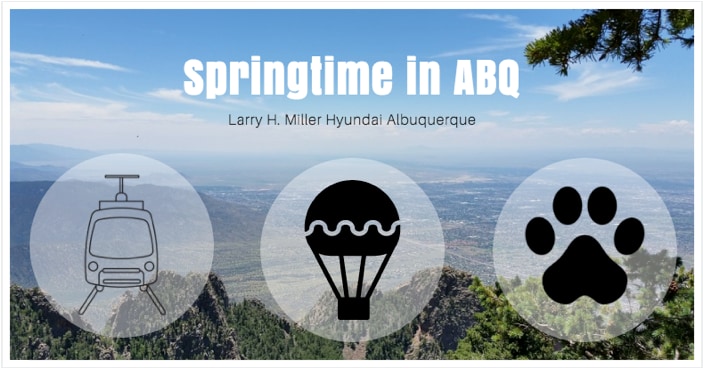 Spring is here, but that's not a very impactful statement considering we live with good weather year-round. Meaning, we get to enjoy the great outdoors 12 months out of the year, and that means plenty of fun activities to be enjoying. If you're unsure of how to spend your free time this spring, let us guide you through some fun outings around Albuquerque this time of the year.



Sandia Peak Tram

If you're looking for some great views and a new perspective, hop on the Sandia Peak Tram to elevate yourself 10,378-feet above the city. It's the longest tram in North America and you'll enjoy every minute of this scenic ride. Bring along a friend for a fun day.

Hot Air Balloon

You might assume riding in a hot air balloon is only something available in the fall. But that's not the only time you can hitch a ride in one of these, hop in and get a view of the city that isn't comparable to anything else. Don't forget your camera and phone, you'll definitely want to be posting some selfies from this high up.

Pet-Friendly Trails

Instead of your usual gal pal, grab your four-legged friend and hit the trails. We're fortunate to have a number of walking and hiking trails that allow our pups to join in on the fun. We recommend the Sandia Mountains for their varied terrain—giving you options for both your high energy puppies and more relaxed older dogs.

While you've got your eyes set on the journey, we're betting you don't want to be wasting your time worrying about your ride getting stuck on the side of the highway. With our current service special offering three oil changes, three tire rotations, three multi-point inspections, and three car washes, we guarantee your ride will be taken care of for the rest of the year. Simply visit us a few times a year and you'll be on your way to not only endless adventures but a happy and healthy ride. Find this offer and our other current monthly specials online.